07-08-2021
"Vom Eigentum an Land und Wäldern"
Indigene Völker
Umweltschutz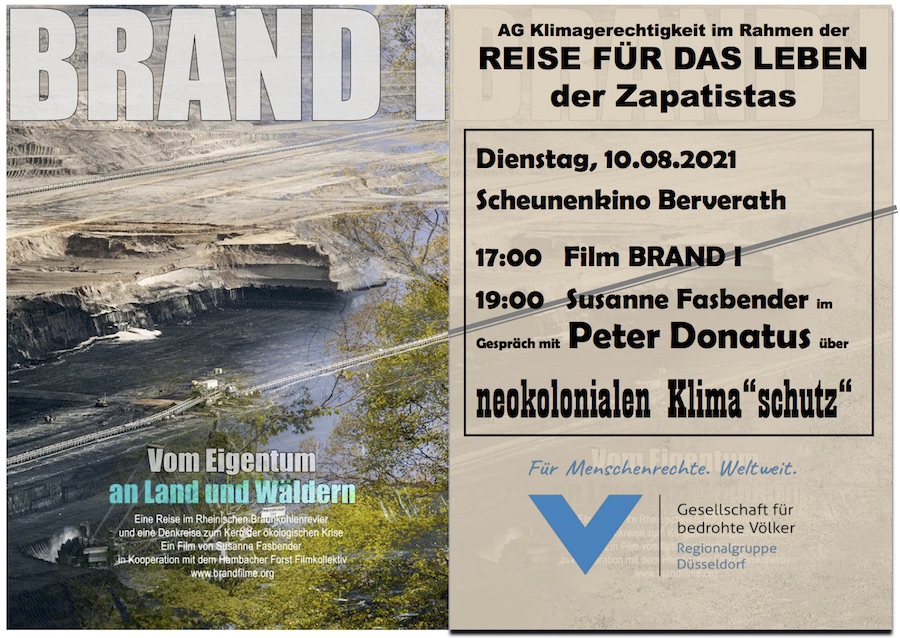 Braunkohle, Steinkohle, Gas, Uran, Öl ruinieren die Lebenswelten indigener Völker. Wie hilfreich ist der Klimaschutz?
Eine Aktion der AG Klimagerechtigkeit der "Reise für das Leben" der Zapatistas und der Gesellschaft für bedrohte Völker GfbV im Rahmen der KulturohneKohle.
Die AG Klimagerechtigkeit der "Gira Zapatista" setzt sich u.a. mit den dubiosen Versuchen auseinander, den CO2-Ausstoß der Industrieländer in Ländern des Südens zu kompensieren. Wie realistisch ist Klimaschutz durch Emissionshandel und wie rassistisch?
Der aus Nigeria gebürtige Kölner Journalist Peter Emorinken-Donatus kämpft als Weggefährte des ermordeten Ken Saro-Wiwa dafür, dass SHELL für den Ökozid im Nigerdelta verantwortlich gemacht wird. Er fordert eine öffentliche Debatte über Ursprung unseres Wohlstands und die Kosten unserer Privilegien.
»Profit raubt Heimat« Greenpeace Magazin — Julia Lauter
Petition · Shell & Nigeria: Ökozid weltweit strafbar machen! "Profitgier raubt Heimat!" @Shell_Germany @IntlCrimCourt @StoppOekozid @StopptOekozid @peteraltmaier @EcocideLaw · Change.org
Die Düsseldorfer Künstlerin und Filmemacherin Susanne Fasbender interviewt seit Jahren Menschen, in deren Leben Klima, Umwelt und Menschenwürde bestimmende Themen sind.
​​​​​Trailer DE/EN: BRAND(FIRE) I Vom Eigentum an Land und Wäldern On property rights to land and forests on Vimeo
In diesen Monaten besucht eine "mexikanische" Delegation von Zapatist*innen – mehrheitlich Frauen – die fünf Kontinente. Sie wollen auf dieser REISE FÜR DAS LEBEN für eine andere Wirtschaft und für ihre indigene Autonomie werben. Mit dabei sind Vertreter*innen des Ejército Zapatista de Liberación Nacional (EZLN), des Congreso Nacional Indígena (CNI) und der Frente de Pueblos en Defensa del Agua y la Tierra de Morelos, Tlaxcala y Puebla (FPDTA-MPT). Diese Lebensreise wird in Europa von "links und unten" mitorganisiert und unterstützt.
Die Zapatistas bereisen Europa ⋆ Ya Basta Netz – Zapatista Reise Deutschland EZLN (ya-basta-netz.org)
"Kultur ohne Kohle – eine rheinische Landpartie" ist ein kostenloses, dezentral organisiertes Festival rund um die Dörfer am Tagebau Garzweiler II.
home | Kultur ohne Kohle (kultur-ohne-kohle.de)
Im Dorf Lützerath findet in diesem Jahr das Klimacamp im Rheinland im Rahmen der KuloKo statt. Die RG Düsseldorf der GfbV (www.gfbv.de) wird dort bis 13.08.2021 in einem grünen Pavillion einen Stand haben.
RG Düsseldorf der Gesellschaft für bedrohte Völker
Anke Konietzny, 40591 Düsseldorf, Tel.: 015757 949586
anke.gfbv@gmx.de
www.gfbv.de/de/aktiv-werden/regionalgruppen/regionalgruppe-duesseldorf/
www.youtube.com/watch?v=F5YwLGzJwnk
Und noch ein Hinweis:
am Dienstag (10.08.2021) wird im Scheunenkino von Berverath
um 17:00 der Film "BRAND I – Vom Eigentum an Land und Wäldern" von Susanne Fasbender präsentiert. Ab 19:00 findet ein Gespräch zwischen Susanne Fasbender und Peter Emorinken-Donatus statt.