28-11-2021
SENSATION IM US-JUSTIZSYSTEM: Ich habe mich geirrt, sagt ehemaliger Staatsanwalt über die Verurteilung von Leonard Peltier
Indigene Völker
Leonard Peltier
Strafverfolgung
Nordamerika
Allgemein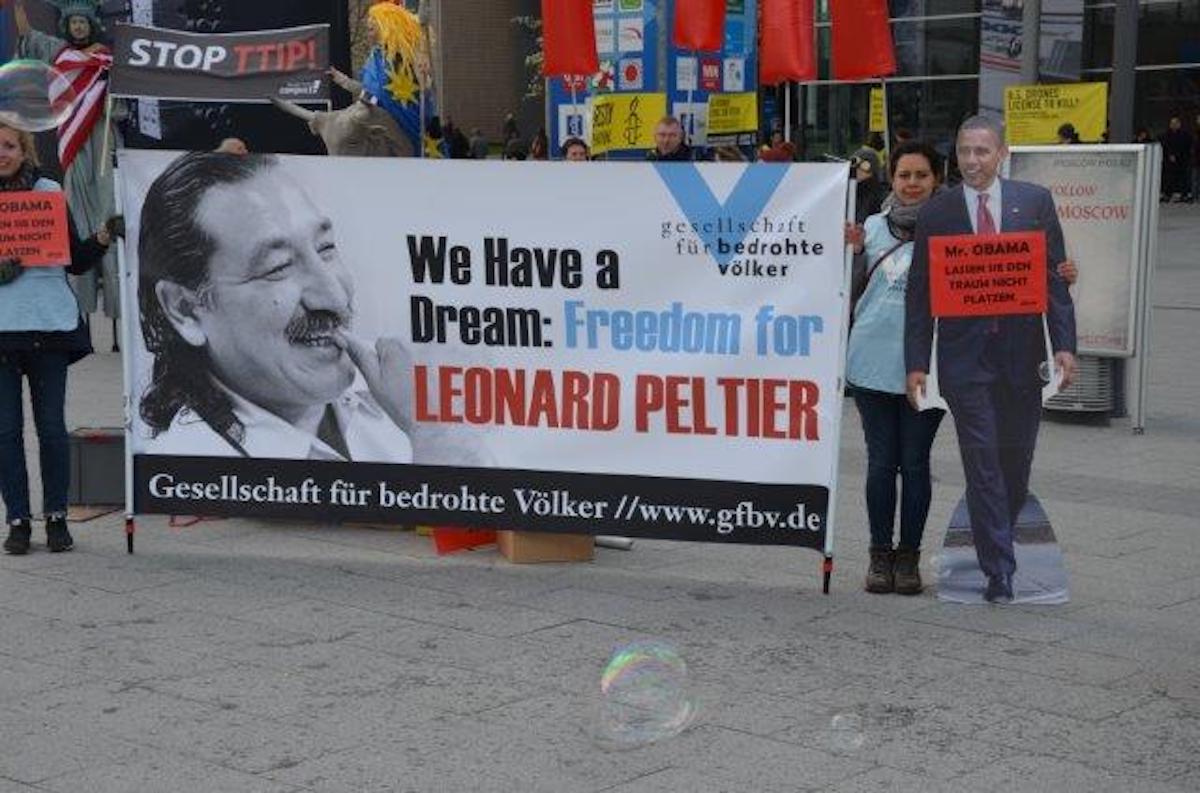 SENSATION IM US-JUSTIZSYSTEM:
Ich habe mich geirrt, sagt ehemaliger Staatsanwalt über die Verurteilung von Leonard Peltier
Von Claus Biegert
Sechsundvierzig Jahre nachdem er dazu beigetragen hat, den indianischen Aktivisten Leonard Peltier für zweimal lebenslänglich hinter Gitter zu bringen, nennt der ehemalige US-Staatsanwalt James H. Reynolds dessen Verfolgung "ungerecht", wirft dem FBI seine Rolle bei der Förderung von Gewalt im Reservat vor und bittet Präsident Joe Biden, Peltier jetzt freizulassen.
Wir danken Kevin McKiernan, der uns den vollständigen Wortlaut dieses außergewöhnlichen Geständnisses zukommen ließ.
VOICES berichtete:
HÖRT rein: VOICES-Podcast von Claus Biegert über Leonard Peltier
Interview mit Richter Kevin Sharp – In the spirit of Crazy Horse – Die Geschichte des Leonard Peltiers
Begnadigen Sie Peltier! Offener Brief für Peltier an US-Präsident Biden und Spitzenbeamten der Justiz
Über die Mühen der Ebenen: Tokata und der Kampf um Leonard Peltiers Freiheit
Amnesty International mit einer Petition: Leonard Peltier muss begnadigt werden
President of the European Parliament Sassoli asks President Biden for clemency for Leonard Peltier
FREE PELTIER – WIR BRAUCHEN DEINE HILFE!
An Präsident Joe Biden
The White House
Washington, DC
Ich war der Staatsanwalt der Vereinigten Staaten, dessen Büro die Strafverfolgung und die Berufung im Fall von Leonard Peltier bearbeitete, und wurde später vom Generalstaatsanwalt der Vereinigten Staaten, Benjamin Civiletti, zum Staatsanwalt für South Dakota ernannt, um eine Angelegenheit zu bearbeiten, die einen Mord im Reservat betraf. Ich schreibe Ihnen heute aus einer Position heraus, die für einen ehemaligen Staatsanwalt selten ist: Ich möchte Sie bitten, die Strafe eines Mannes umzuwandeln, bei dem ich beigetragen habe, ihn hinter Gitter zu bringen.
Die Verurteilung von Leonard Peltier und seine fortdauernde Inhaftierung sind ein Zeugnis für eine Zeit und ein Rechtssystem, die in unserer Gesellschaft keinen Platz mehr haben. Ich hatte das Glück, mitzuerleben, wie sich dieses Land und seine vorherrschende Haltung gegenüber den amerikanischen Ureinwohnern in den letzten 46 Jahren dramatisch weiterentwickelt haben.
Mit der Zeit und im Nachhinein habe ich erkannt, dass die Verfolgung und die fortgesetzte Inhaftierung von Leonard Peltier ungerecht war und ist. Wir waren nicht in der Lage zu beweisen, dass Leonard Peltier persönlich eine Straftat im Pine Ridge Reservat begangen hat. Infolgedessen haben wir während des gesamten Verfahrens und der Berufung unseren Standpunkt zu den Schuldtheorien gewechselt. Zunächst verfolgten wir die Theorie des "vorsätzlichen Hinterhalts" gegen die Mitangeklagten von Mr. Peltier (die aufgrund von Selbstverteidigung für nicht schuldig befunden wurden). Dann verfolgten wir in der Anklage gegen Mr. Peltier die Theorie der "vorsätzlichen Hinrichtung". Schließlich verfolgten wir in der Berufung die Theorie, dass Mr. Peltier ein "Komplize" war, ungeachtet der Tatsache, dass seine Mitangeklagten als in Notwehr handelnd befunden wurden.
Die letzte Theorie, auf die sich die Verurteilung von Leonard Peltier stützt, lautet, dass er des Mordes schuldig ist, weil er an jenem Tag mit einer Waffe im Reservat anwesend war. Herr Peltier wurde jedoch als "kaltblütiger Mörder" bezeichnet und, was noch wichtiger ist, verurteilt, basierend auf einer Theorie, die wir in der Berufung fallen lassen mussten. Er hat mehr als 46 Jahre auf der Grundlage minimaler Beweise verbüßt, ein Ergebnis, das ich stark bezweifle, dass es heute von irgend einem Gericht bestätigt werden würde.
Die Ereignisse, die sich an diesem Tag im Pine Ridge Reservat zugetragen haben, und die Menschen, die dabei ums Leben kamen, sind eine Tragödie. Während der gesamten Strafverfolgung und Berufung von Mr. Peltier wurde jedoch die Rolle des FBI bei der Schaffung der gefährlichen Bedingungen auf Pine Ridge wenig oder gar nicht berücksichtigt. Aufgrund der Art und Weise, wie der Fall untersucht und strafrechtlich verfolgt wurde, und der damals vorherrschenden Meinung der amerikanischen Ureinwohner musste Mr. Peltier allein den vollen Preis für die Tragödie zahlen. Er hat ihn mit über 46 Jahren seines Lebens bezahlt. Er ist jetzt 76 Jahre alt und bei schwindender Gesundheit.
Ich glaube, dass eine Begnadigung durch die Exekutive dem besten Interesse der Justiz und dem besten Interesse unseres Landes dienen würde. Meiner Meinung nach würde eine weitere Inhaftierung von Mr. Peltier nach allem, was wir jetzt wissen, nur dazu dienen, das zerrüttete Verhältnis zwischen den amerikanischen Ureinwohnern und der Regierung fortzusetzen.
Ich bitte Sie eindringlich, einen anderen Weg in der Geschichte der Beziehungen der Regierung zu den Ureinwohnern einzuschlagen, indem Sie Gnade walten lassen, anstatt sich weiterhin gleichgültig zu verhalten. Ich bitte Sie eindringlich, einen Schritt zur Heilung einer Wunde zu tun, an deren Entstehung ich beteiligt war. Ich bitte Sie eindringlich, Leonard Peltiers Strafe umzuwandeln und ihm mittels einer Begnadigung die Freiheit zu geben.
Mit freundlichen Grüßen,
James H. Reynolds
Staatsanwalt der Vereinigten Staaten (1976 – 1982)
CC: Generalstaatsanwalt Merrik B. Garland
Amtierende Begnadigungsanwältin Rosalind Sargent