31-10-2021
Begnadigen Sie Peltier! Offener Brief für Peltier an US-Präsident Biden und Spitzenbeamten der Justiz
Leonard Peltier
Nordamerika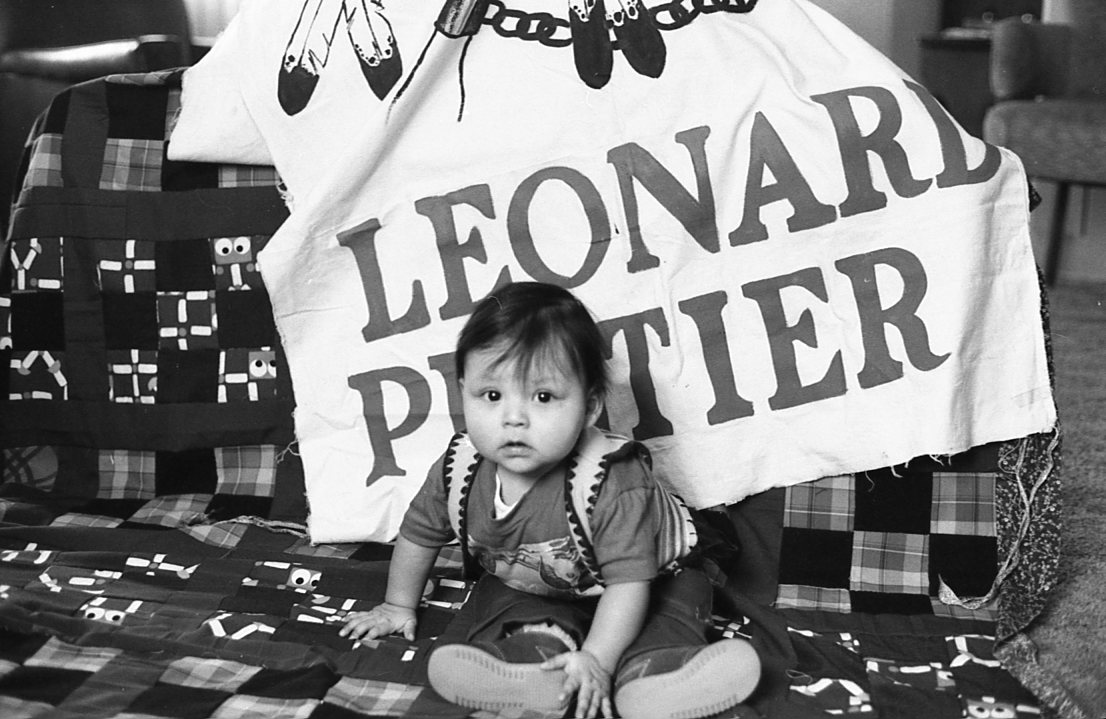 Von Wolfgang Mayr
24 VertreterInnen mehrerer First Nations, Abgeordnete in verschiedenen US-Staaten, bitten um die Begnadigung von Leonard Peltier. Der offene Brief richtet sich an US-Präsident Biden, US-Justizminister Garland und an weitere hohe Funktionäre der US-Justiz. Der 77-jährige Peltier sitzt seit 44 Jahren in einem Bundesgefängnis ein. Die UnterzeichnerInnen weisen auf den schlechten Gesundheitszustand von Peltier hin. Sie zitieren ein Schreiben des Justiz-Ministeriums an das Federal Bureau of Prisons, kranke und ältere Häftlinge freizulassen. Peltier befindet sich derzeit im Coleman Federal Correctional Gefängnis in Florida.
Leonard Peltier wurde 1977 wegen angeblichen Mordes an den FBI-Agenten Ronald Williams und Jack Coler zu lebenslangen Haftstrafen verurteilt. Die FBI-Beamten waren am 26. Juni 1975 während einer Schießerei zwischen Mitgliedern des American Indian Movements und dem FBI auf dem Pine Ridge-Reservat in Süd-Dakota getötet worden.
Die Briefe-SchreiberInnen erinnern daran, dass während der  Strafverfolgung viele Beweis- und Verfahrensprobleme auftraten. Als Beispiel zitieren sie den Fall der angeblichen Schlüsselzeugin der Schießereien, die später ihre Aussage zurückzog und zugab, dass das FBI sie und ihre Familie bedroht hatte. Ein Urteil des Freedom of Information Act von 1980 bestätigte, dass die Staatsanwaltschaft wichtige Beweise zurückhielt.
Viele Rechtsexperten haben den Prozess für seine zahlreichen Verfahrensmängel kritisiert. Es ist deshalb nicht verwunderlich, ergänzen die UnterzeichnerInnen, dass viele native americans der US-Strafjustiz misstrauen.  Keine Reaktion zeigten auch die verschiedenen Präsidenten und die Justiz auf die vielfältigen Gnadengesuche von angesehenen Persönlichkeiten und Organisationen.
Aber auch aus der Justiz heraus kam ein Vorstoß zugunsten von Leonard Peltier, unterstreichen die 24 Brief-InitiatorInnen. So startete 2021 der ehemalige US-Staatsanwalt James H. Reynolds, sein Büro war für die Strafverfolgung und für die Anklage von Peltier zuständig, eine landesweite Aktion. Mehr als 275.000 Unterschriften konnten für eine Begnadigungs-Petition gesammelt werden, die sich an Präsident Biden richtete.
Die 24 Abgeordneten schließen sich dem Schreiben mehrerer Kongress-Abgeordneter an wie Raúl M. Grijalva, Barbara Lee, Jesús G. "Chuy" Garcia, Cori Bush, Emanuel Cleaver II, Jared Huffman, Teresa Leger Fernández, Rashida Tlaib, Pramila Jayapal, Betty McCollum und Melanie Stansbury. Auch sie baten am 8. Oktober 2021 um die beschleunigte Freilassung und um die Begnadigung von Peltier.
Mit ihrer Aktion will die Abgeordneten auch die tribal nations und Organisationen unterstützen, die sich für die Freilassung von Peltier ausgesprochen haben. Der National Congress of American Indians drängte in gleich mehreren Resolutionen auf eine rasche Begnadigung.
Die Befürworter einer Begnadigung verweisen auf die Initiative der Oglala der Pine Ridge-Reservation und der Anishinabe/Chippewa von der Turtle Mountain Band (Heimat von Peltier). Beide schlugen der Justiz vor, Peltier aufzunehmen und ihn zu betreuen.
In regelmäßigen Abständen engagierte sich amnesty international für Leonard Peltier. Die AI-Petitionen wurden von anerkannten Persönlichkeiten unterstützt, wie vom inzwischen verstorbenen Nelson Mandela, vom Dalai Lama, Michail Gorbatschow, Mary Robinson, ehemalige Präsidentin Irlands und Hohe Kommissarin der Vereinten Nationen für Menschenrechte, vom Europäischen Parlament, vom belgischen und italienischen Parlament, vom Kennedy Memorial Center for Human Rights, Rev. Jesse Jackson, Rigoberta Menchu, sieben Friedensnobelpreisträgern (darunter Erzbischof Desmond Tutu und Shirin Ebadi), Rage Against the Machine, Pete Seeger, Carlos Santana, Harry Belafonte, Gloria Steinem und Robert Redford. Die Liste der UnterstützerInnen ist sehr lange.
Die Abgeordneten bitten den Präsidenten, "das Richtige zu tun. Lassen Sie Leonard Peltier nach Hause gehen und seine letzten Jahre unter seinem Volk leben, als Akt der Gnade und des Mitgefühls.
Quelle: Indian Country Today, Autorin: Ruth Anna Buffalo von der Mandan, Hidatsa und Arikara Nation